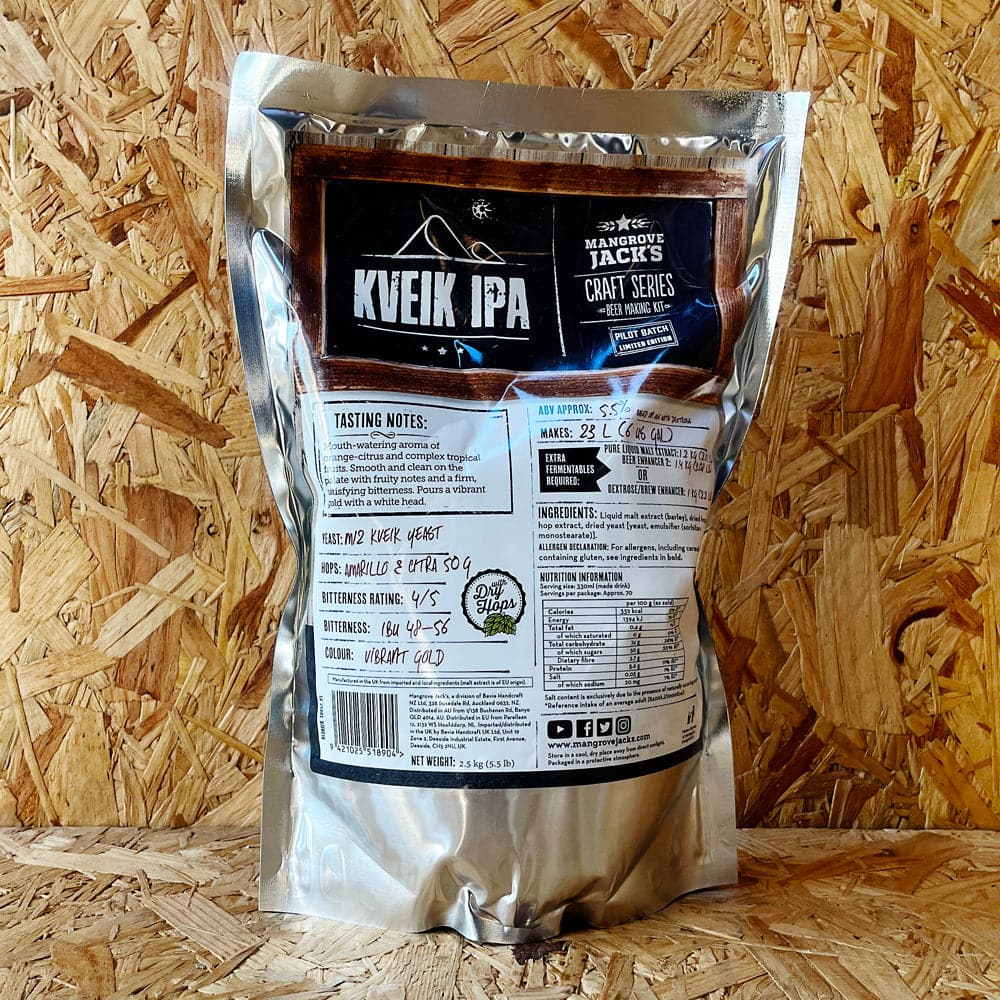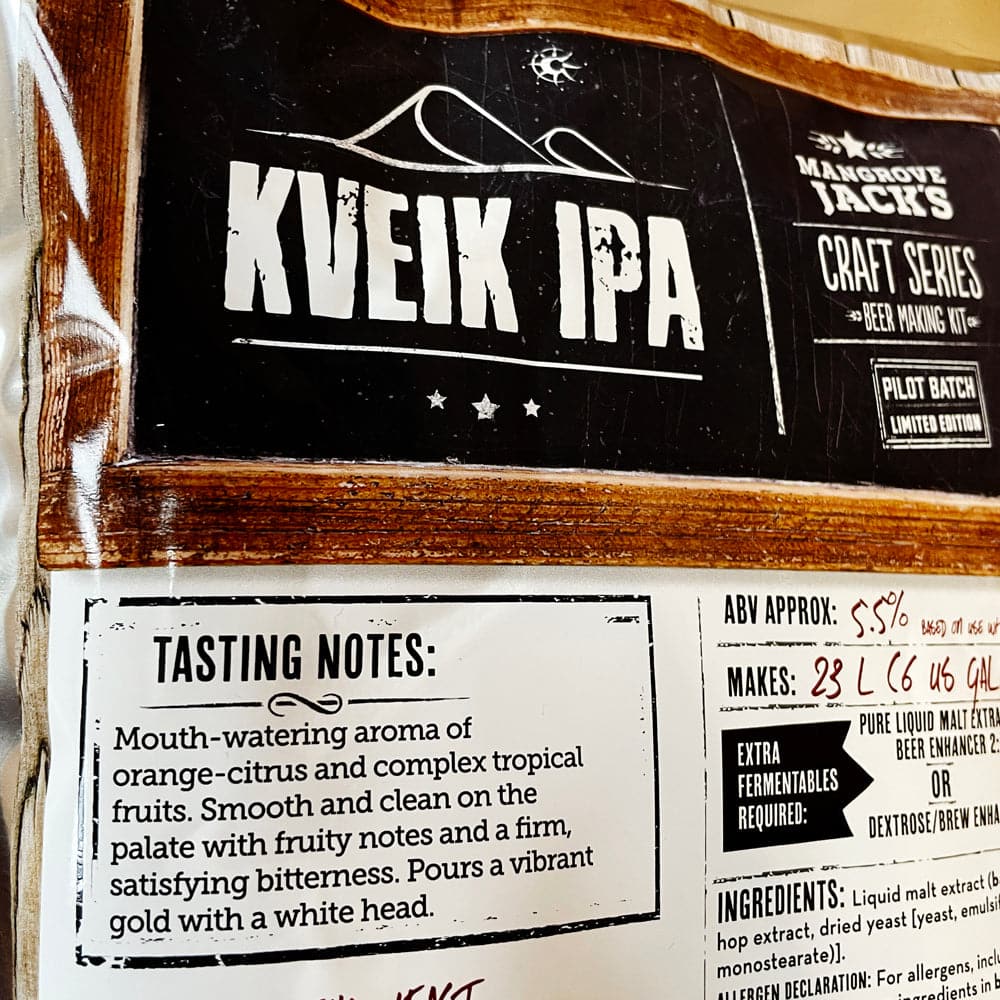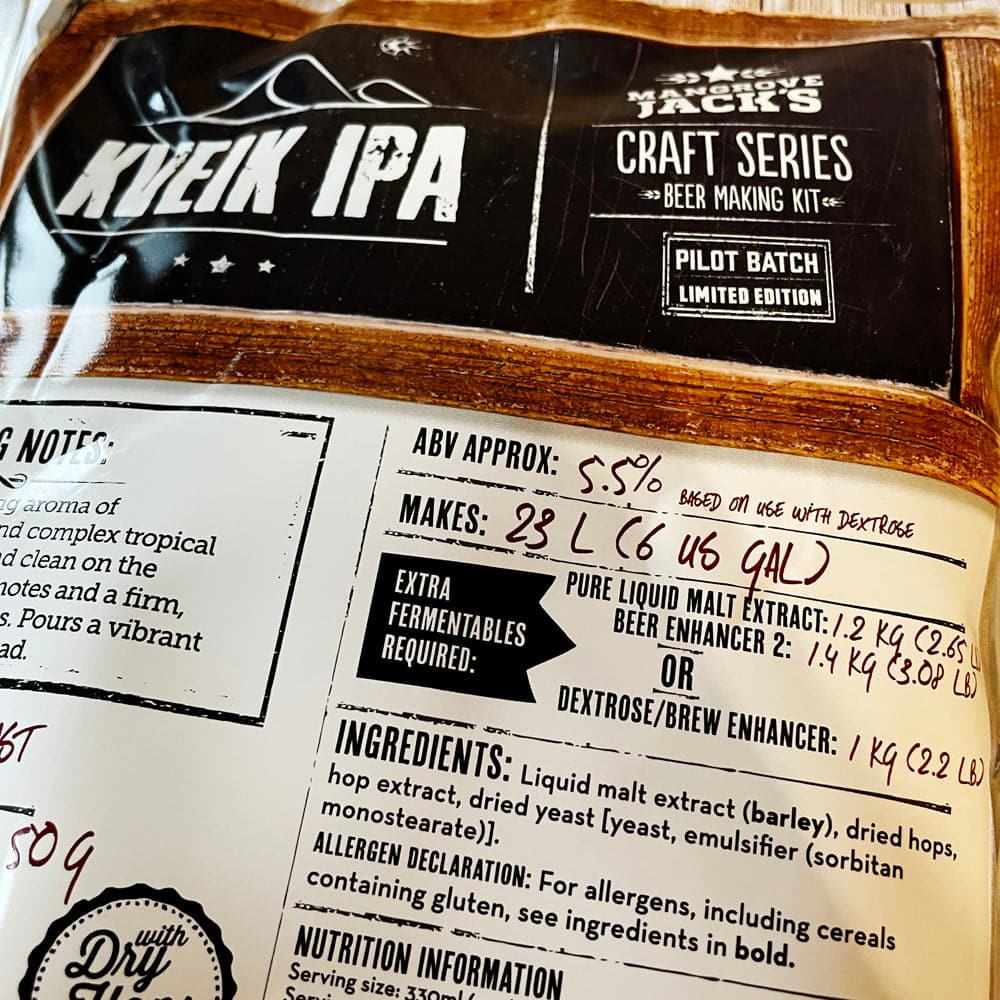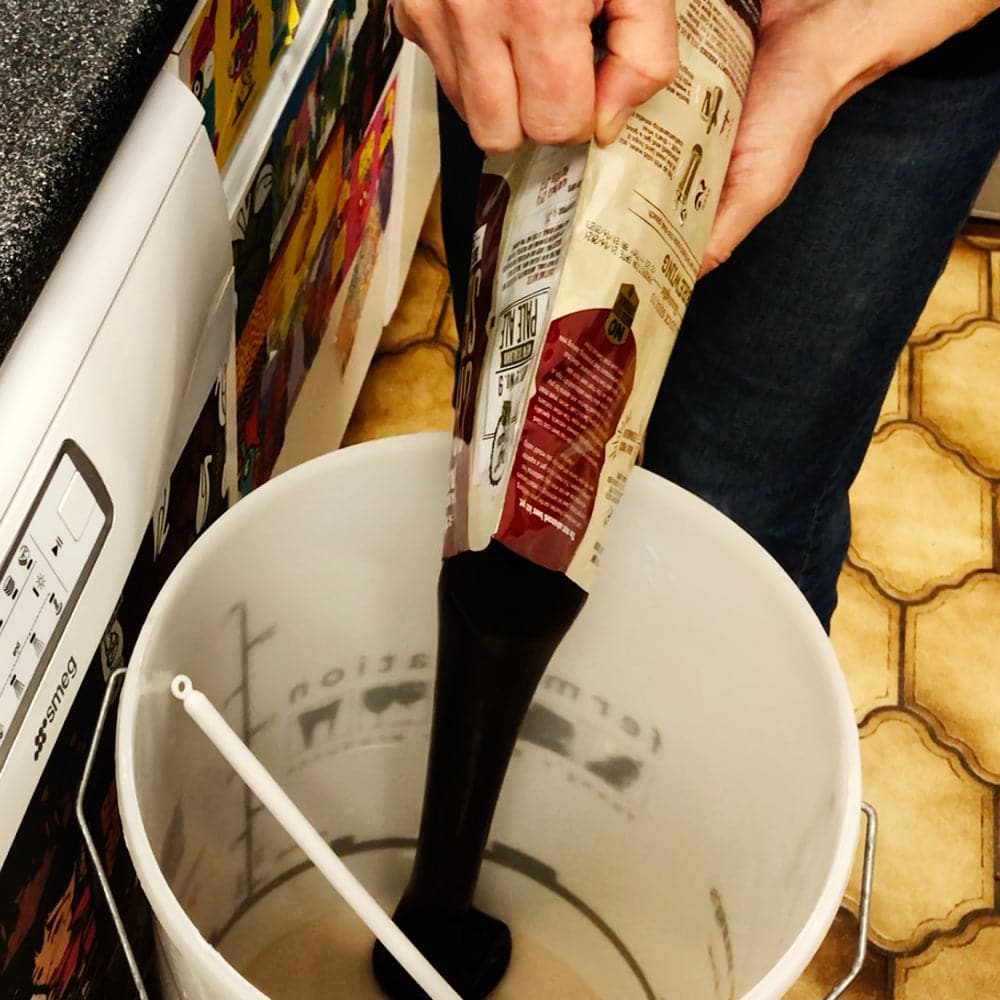 Mangrove Jacks Kveik IPA - 40 Pint Craft Beer Kit
Add this item to your cart and then use our handy Shipping Calculator on the basket page to calculate your delivery charge.
Delivery to UK addresses starts at just £1.50 and orders over £70 are eligible for free UK delivery*
This Mangrove Jacks Kveik IPA (India Pale Ale) beer kit makes 40 pints of mouth watering beer in the craft beer style with citrussy orange and tropical flavours.  
What makes this beer Mangrove Jacks Kveik IPA beer kit a kveik kit is the yeast.  Included is a Mangrove Jacks Kveik yeast.  This yeast likes to ferment at higher than normal temperatures (up to 40°C) and does it very quickly.  It also is very tolerant of it's environment and is not stressed easily.  This means it does not give any off flavours like diacetal, so the resulting beer able to show its full flavours.  This yeast is also very good for bottle conditioning as it settles into a vary tight, compact sediment.   This yeast is great for craft beers like this Mangrove Jacks Kveik IPA beer kit as it also adds fruity aromas to the beer which compliment the fruity aromas given off by the hops.
The Mangrove Jacks Kveik IPA beer kit pours gold with a white head, giving off orange and mango and other tropical fruit aromas from the Kveik yeast and the Amarillo and Citra hops, all held in a crisp, clean beer that has a good level of bitterness to balance it all out.
This ingenious pouch design saves on packaging. Inside the pouch is separated into two compartments. 1 holds the malt extract and the other the instructions and any other dry ingredients.
This kit with the beer enhancer will create an ABV of approx 5.5%.
Colour - Vibrant Gold
Bitterness - 4/5
- - -
This kit will also require one of the following:
a - 1kg of Brewing Sugar (supermarket sugar will work, but it will cause the finished beer to be sweet)
Or
b - 1kg of Beer Enhancer.  A mixture of brewing sugar and light spraymalt.  This will give the finished beer a good body and mouth feel.
Or
c - 1.2kg of Liquid Malt Extract.  This will give the best finished beer with a smooth body, full flavour and good head retention.
You will also need basic brewing equipment such as: a bucket; siphon; steriliser; thermometer & hydrometer to brew this ingredient kit.