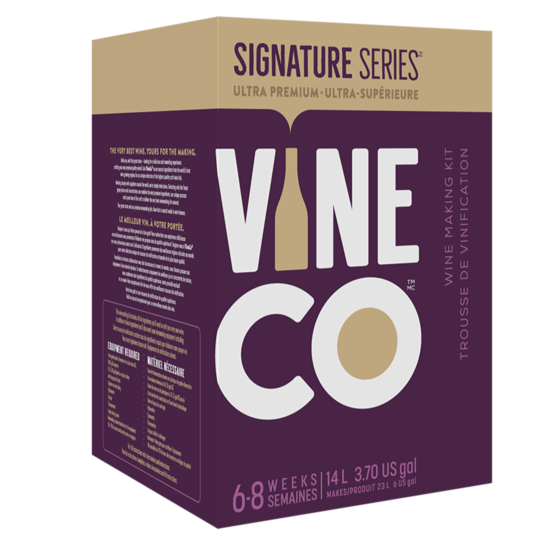 Vine Co Signature Series - California Cabernet Sauvignon - 30 Bottle Red Wine Kit
Add this item to your cart and then use our handy Shipping Calculator on the basket page to calculate your delivery charge.
Delivery to UK addresses starts at just £1.50 and orders over £70 are eligible for free UK delivery*
The Vine Co Signature Series California Cabernet Sauvignon uses concentrated grape juice sourced from vines in California, which gives this wine its characteristic deep dark red, with high acidity, high tannin and medium to full body with black fruit notes of black cherry, vegetal notes of green pepper, and spice notes of vanilla. Mellow blackberry & blueberry dark fruits with that Californian hint of green peppers and that alcohol kick just to remind you that this is a quality wine kit.
This wine is awesome with red meats but can be drank on it's own to allow the full flavours of cedar, fruits and green pepper to balance the dry tannins.
In this kit you get 14 litres of grape concentrate (that you top up to 23 litres with tap water), the perfect yeast for this style of wine and the other ingredients to make sure this wine kit makes you 30 bottles of wine that you would find on the expensive shelves of the supermarket aisle. 
While this may seem an expensive kit, it is not when you compare it to the equivalent wine that you can buy in the supermarket or a specialist wine shop.  Even with the supermarket deals, you can not buy a bottle of wine cheaper.
This is a very easy kit to make, with simple instructions.  It will take up to 8 weeks to make, then bottle and allow to condition for at least a month, ideally 6 months.  Then enjoy some of the best wine you can make from a wine kit.