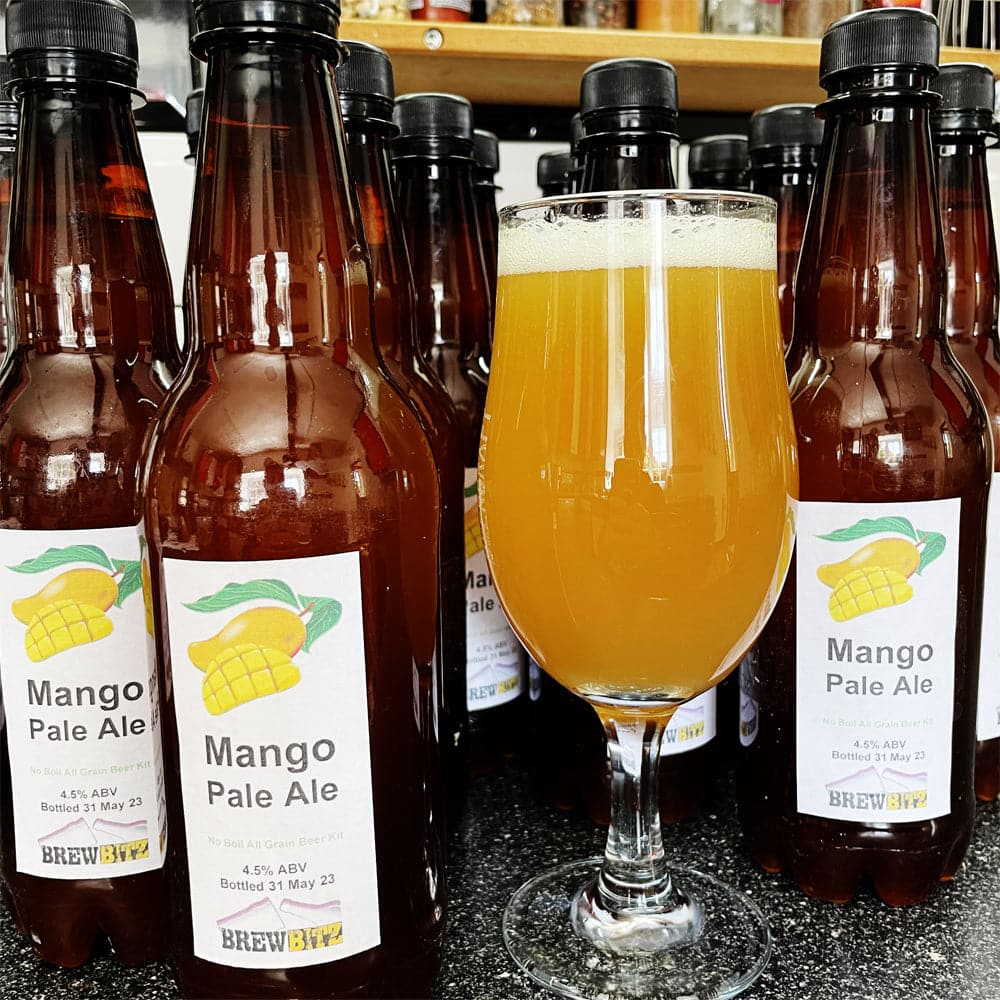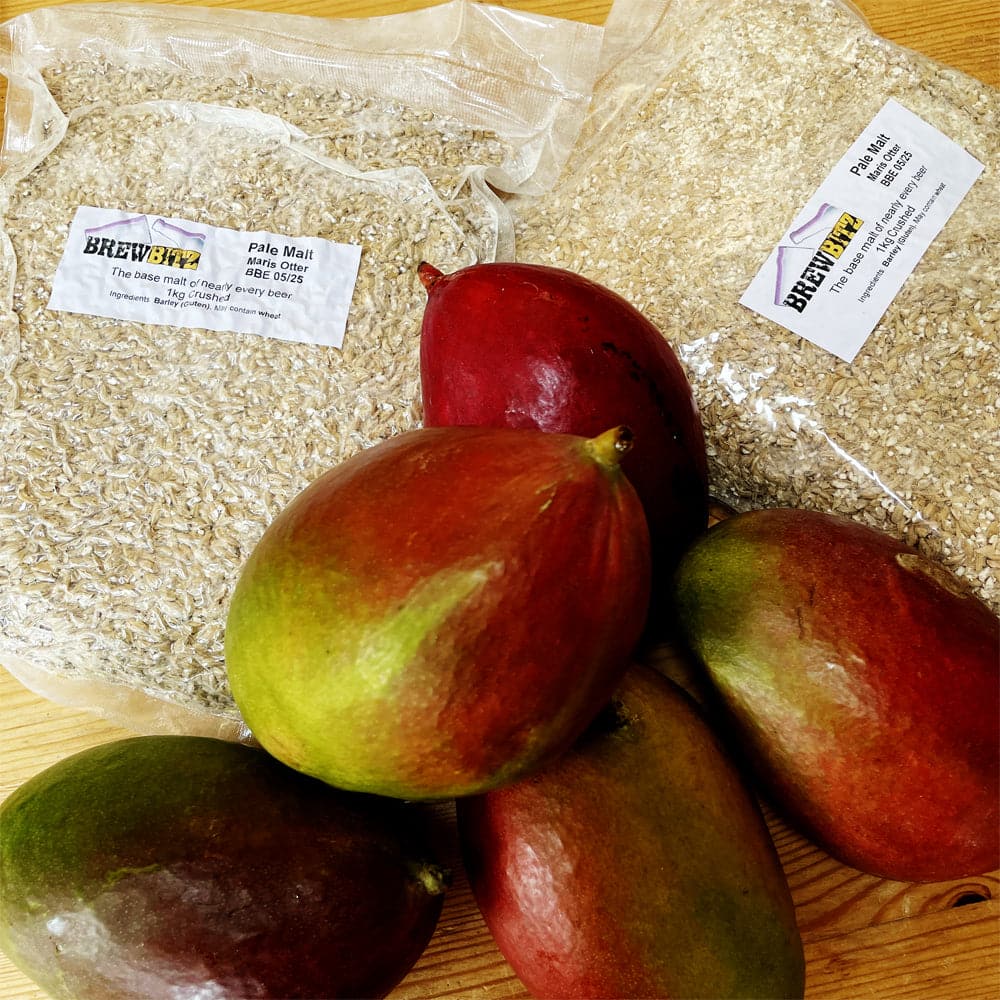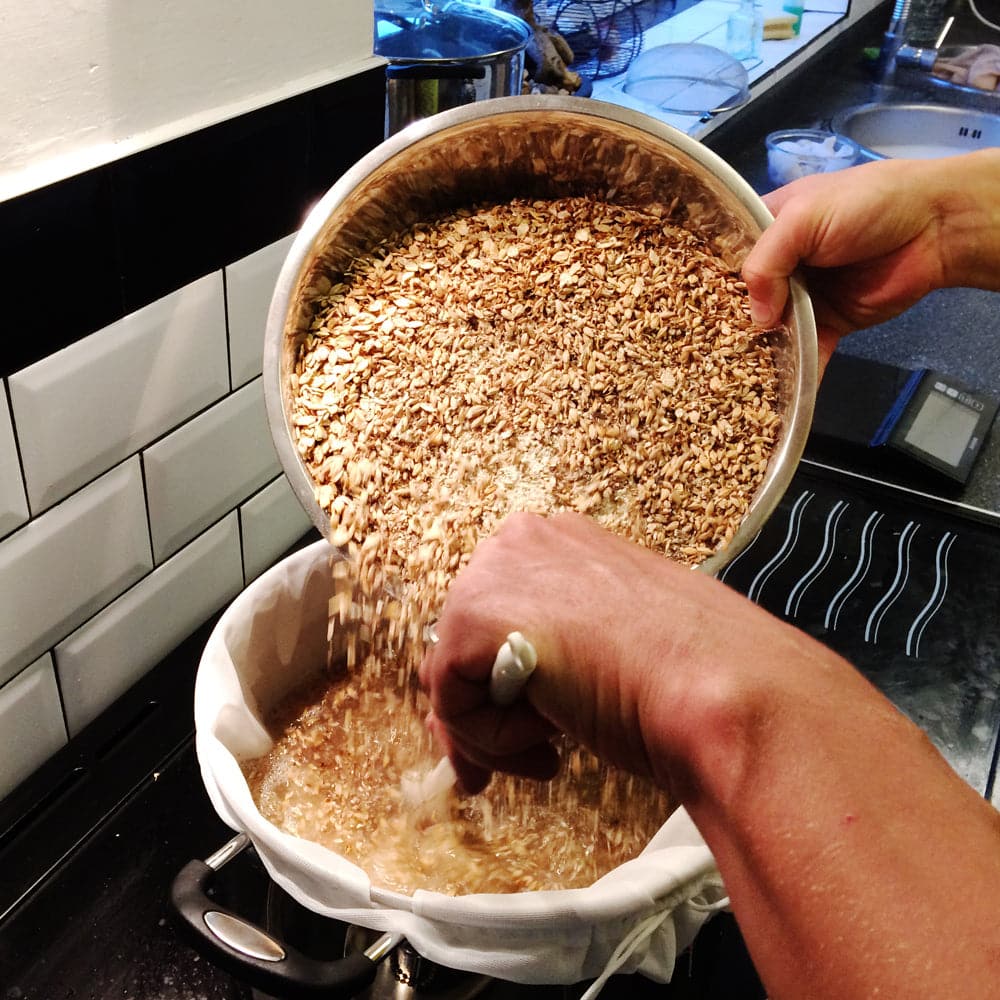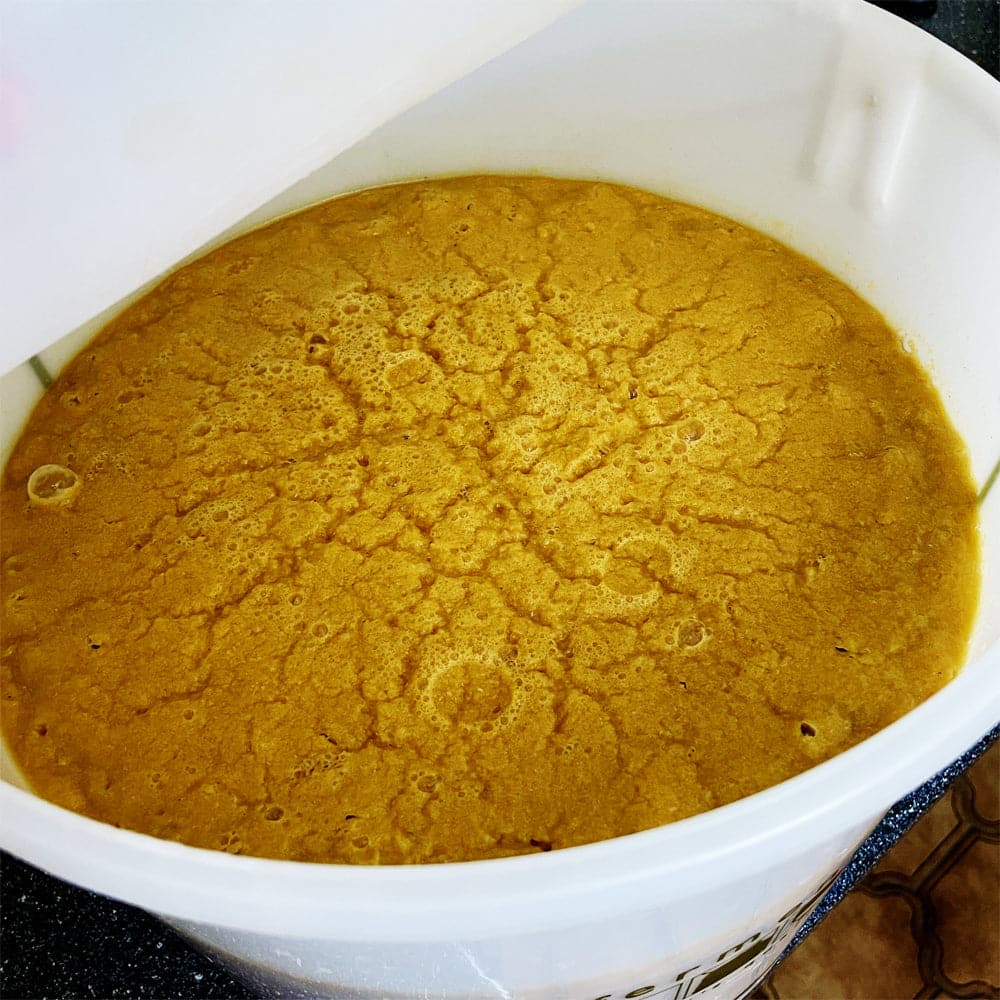 Mango Pale Ale - No Boil All Grain Beer Ingredient Recipe Kit
Add this item to your cart and then use our handy Shipping Calculator on the basket page to calculate your delivery charge.
Delivery to UK addresses starts at just £1.50 and orders over £70 are eligible for free UK delivery*
Our Brewbitz Mango Pale Ale No Boil All Grain Ingredient Kit comes with the ingredients you need to make 2 gallons (16 pints) of Mango Pale Ale from grain. In this kit, you do need to buy 1.5kg of fresh mangos.
Look = Golden yellow, slightly hazy, creamy white head that gently disappears. 
Aroma = Is obviously mango! A little toffee hint from the malts, pineapple, and grapefruit citrus too.
Taste = Smooth on the pallet, lots of fruity mango, a gentle bitterness that covers the tongue which is balanced by a light sweetness from the malts. 
Alcohol - 4.5% ABV
Detailed Instructions for Brewing the Brewbitz No Boil Mango Pale Ale All Grain Ingredient Kit
We have put together the grain, hops, yeast and a couple of other bits, so the only extra thing you'll need is water, mangos and some equipment you'll probably have already in your kitchen. This great beer is easy to make up and you'll be making another one as soon as you've tasted it!
A bit about Brewbitz Mango Pale Ale...
We love a fruity craft beer and mango fits perfectly with the aromas given off by the hops, so lets enhance that even further with lots of fresh mango.
At 4.5% ABV this is a really refreshing session beer, with juicy mango flavour and aromas, smooth, yet light.  A gentle bitterness with a light fizz.  The perfect kit for beginners that love craft beer and want to get into all grain brewing. Your friends will never believe you made it yourself, at home, it's that good! A stunning craft ale.
Just a note about mangos, there are a few varieties available in the UK and these vary in size and flavour, so the outcome will depend on the mangos you use, but as a rule of thumb 1.5kg of fresh mangos should give you about 900g of mango pulp.
Most breweries boil the beer, because that's always been the way, and who's to mess with a traditional recipe and method? But we started questioning the reasons and we originally made a "no boil beer" as an experiment after reading about breweries not boiling the wort and still making amazing beers.  Our first ever "no boil beer" turned out to be delicious, so we decided to make a range of no boil all grain beer kits for you to try brewing for yourself. And here is our first fruity craft beer in a no boil all grain kit.

Using malts from Warminster Malting who use traditional floor malting methods, this all grain beer kit is a little different to those you have probably made before.
If you have an all in one beer machine (e.g. a Grain Father) then you can use that, but the 2 gallon (9 litre) kit, we have designed it to be a 'Brew In the Bag' beer kit, so that anyone with some very basic brewing equipment and a stove can brew it.
This all grain beer kit does not need to have the wort boiled, so is fast to make, which means it does not create a lot of steam and saves on electric, but still creates an amazingly tasty beer.
What's in the Mango Pale Ale All Grain Beer Kit...
Detailed instructions
Grains
Hops
Beer Yeast
Priming Sugar
To brew this beer you'll need to buy some mangos and have some basic brewing equipment.
Once you've tried this one try our other All Grain Beer Kits and make another fantastic beer.
- - -
Ingredients (Allergens listed in Bold): Barley (Gluten), Mango (not included), Oats (Gluten), Wheat (Gluten) Hops, Sugar, Yeast.
Our store offers products with peanuts, tree nuts, soy, milk, eggs and wheat. While we take steps to minimise the risk of cross contamination, we cannot guarantee that any of our products are safe to consumer for people with peanut, tree nut, soy, milk, egg or wheat allergies.