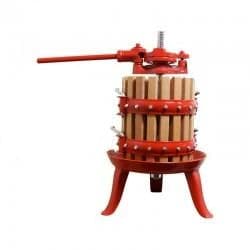 Premium Apple (Cider), Grape (Wine) & Fruit Press - Ratchet Action
Add this item to your cart and then use our handy Shipping Calculator on the basket page to calculate your delivery charge.
Delivery to UK addresses starts at just £1.50 and orders over £70 are eligible for free UK delivery*
This Torchio centre spindle fruit press is perfect for all types of fruit to extract their juice.

With its 11 litre capacity you can squeeze quite a lot in one go, and because of the ratchet action, you can get a good pressure on the fruit and get out pretty much all the juice.
The cage has a quick release mechanism for releasing the pressed fruit which will be a solid block.  Then simply fill the cage and start pressing again.  This makes the pressing process much quicker.
It is made of heavy duty pressed steel that has been enamelled, with a wooden cage made of Beech and a cast iron enamelled ratchet, so it should give you years of service.
Do not be fooled by cheaper alternatives.  This is a quality press that will out-perform cheap imitations and will not bend when pressure is applied.
It is easy to assemble and just as easy to disassemble for cleaning after you have finished pressing.
Tips:
If you are using hard fruits, like apple, it is best to pulp them beforehand.
Use the holes in the feet to secure it to a hard surface or pallet.