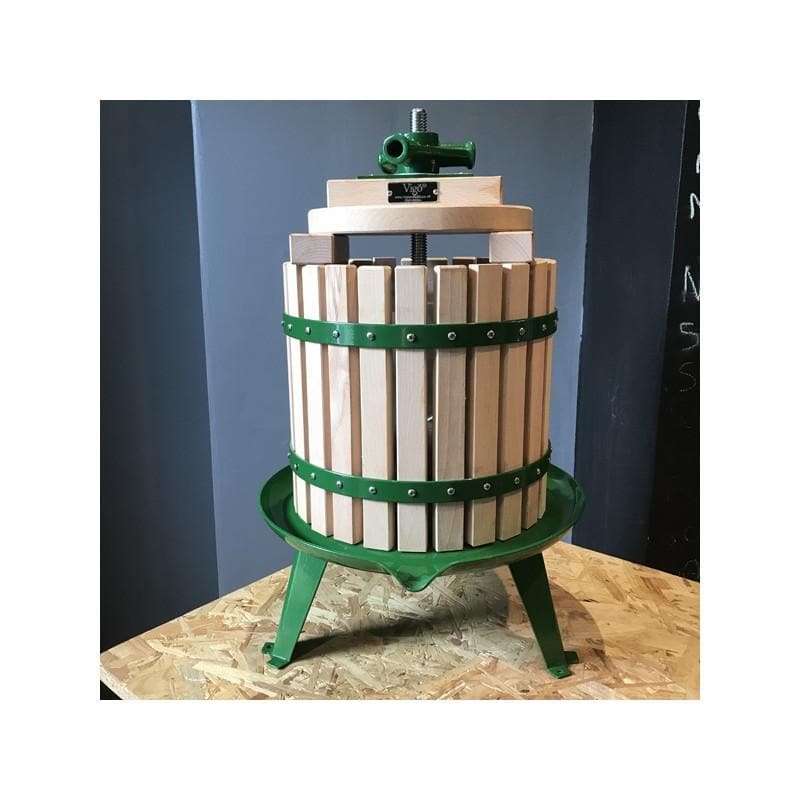 Apple (Cider), Grape (Wine) & Fruit Press - 12 Litre - Vigo
Add this item to your cart and then use our handy Shipping Calculator on the basket page to calculate your delivery charge.
Delivery to UK addresses starts at just £1.50 and orders over £70 are eligible for free UK delivery*
This press is perfect if you have a few apple trees and you don't want to let all those juicy apples go to waste.  Simply pulp your fruit, press it and you will have the best tasting apple juice ever!  You can freeze the juice or let it ferment into cider.
This traditional apple press is made of the very best materials and will last a long time. Just remember to clean it after you have finished pressing. 
Vigo are the go to name for presses and make small hobby presses like this, to industrial presses for very large cider makers.  Do not be fooled by cheap imitations.  This press, with a little care, will last years.
With a base plate, spindle nut and legs made from robust steel, a sustainable beech pressing cage, this apple and fruit press will keep making juice time and time again.
The 12 Ltr press comes flat-packed, simple construction with a Phillips screwdriver (taking on average 10 minutes)
Follow the easy to use instructions in the Basic Cider and Juice making booklet to make your own apple juice and cider.
With a metal base and wooden slats, this is a tradition style press that will keep you pressing apples for many years.
Capacity 11kgs of fruit.
Yield approx 6 litres per pressing depending on the fruit used.
Please be aware that this item may be shipped directly from the manufacturer, so there may be a small delay of a few days to get to you.  We will contact you to let you know how it is being transported.