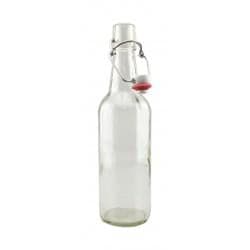 Swing Top Bottles - Clear Glass - 500ml - 12 Pack
Add this item to your cart and then use our handy Shipping Calculator on the basket page to calculate your delivery charge.
Delivery to UK addresses starts at just £1.50 and orders over £70 are eligible for free UK delivery*
This pack of 12 swing top, Grolsch style, clear glass bottles are perfect for storing cordial, juice or for making sparkling wines.

Swing top bottles are excellent for Elderflower Champagne and many other brews.
Once empty, rinse out and keep them safe for next time as they are fully reusable.

If you are wanting Swing top bottles for beer, then we suggest using the Amber (brown) versions.
The white part of the stopper is made from strong durable plastic.